Carlsen, Ding and Giri two points behind
Wei Yi still holds the record for the youngest player to break the 2,700 mark. The Chinese star, a fearless tactician, didn't reach the top of the world rankings as expected, but he's still a grandmaster very strong. After kicking off the Chessable Masters with three wins and a draw, he leads the standings with 10/12 points.
Three big names share second place with eleven rounds to go in the preliminaries, as Magnus Carlsen, Ding Liren and Anish Giri all picked up two wins and two draws on Thursday. A football scoring system is in place – 3 points for a win, 1 point for a draw – which means no less than 33 points are still up for grabs in the online event.
While half of the field is set to reach the knockout stage, the youngest player among the strong roster currently stands in the top half of the table. Abhimanyu Mishra, who turned 13 three months ago, started with back-to-back losses but wins over Eric Hansen and Shakhriyar Mamedyarov left him in seventh place with 6/12 points.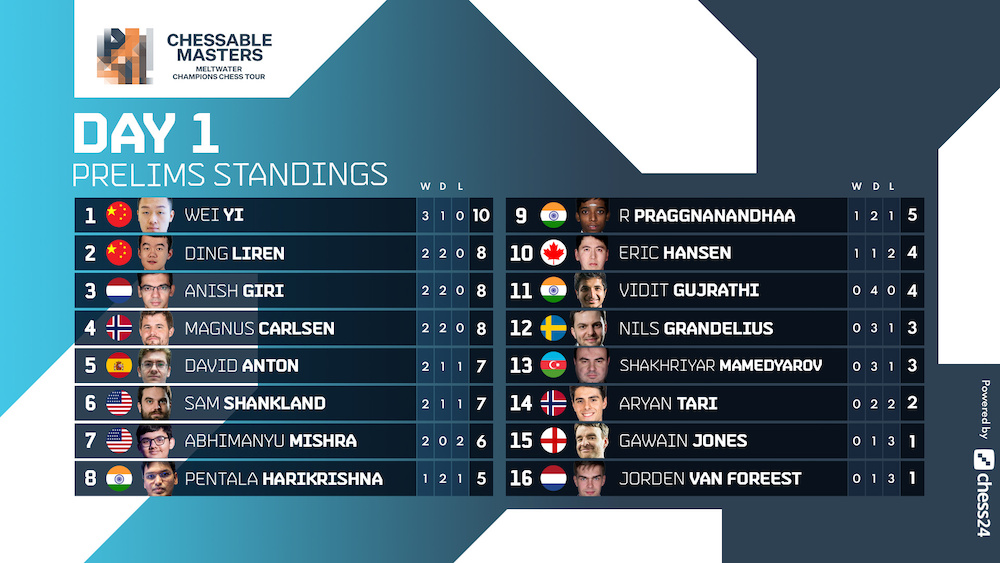 Wei beats Hari
After drawing Praggnanandhaa with Black in the first round, Wei picked up three straight wins to take the lead. First, he got the better of Pentala Harikrishna on a sharp defense from Ragozin.
A fortress breaker
Giri drew twice with black and won twice with white on Thursday. In round 4 he beat Gawain Jones after showing great technique in an endgame with opposite colored bishops. GM Karsten Müller analyzed the ending.
---
Cross table (win = 3 points, draw = 1 point)
---
All the games
Connections