Hyperbola? Clickbait? A tricky pun with a guilty disclosure now? None of them. Judge by yourself.
At three, she could replay a game of chess from memory after seeing it, and at seven, she could play six simultaneous games while blindfolded. At age nine, she beat an international master who had been a five-time national champion.
Who is this girl? Meet Jutta Hempel.
Six-year-old Jutta Hempel simultaneously replaying six famous master games by heart in Gluecksburg, northern Germany, August 13, 1967. (Photo: Stern / Juergen Nickel)
Born in Jensburg, West Germany in 1960, Jutta Hempel quickly became a media star, appearing on news stories across Europe as she simulated and marveling at her precociousness…and incredible kindness to melt anyone who saw her.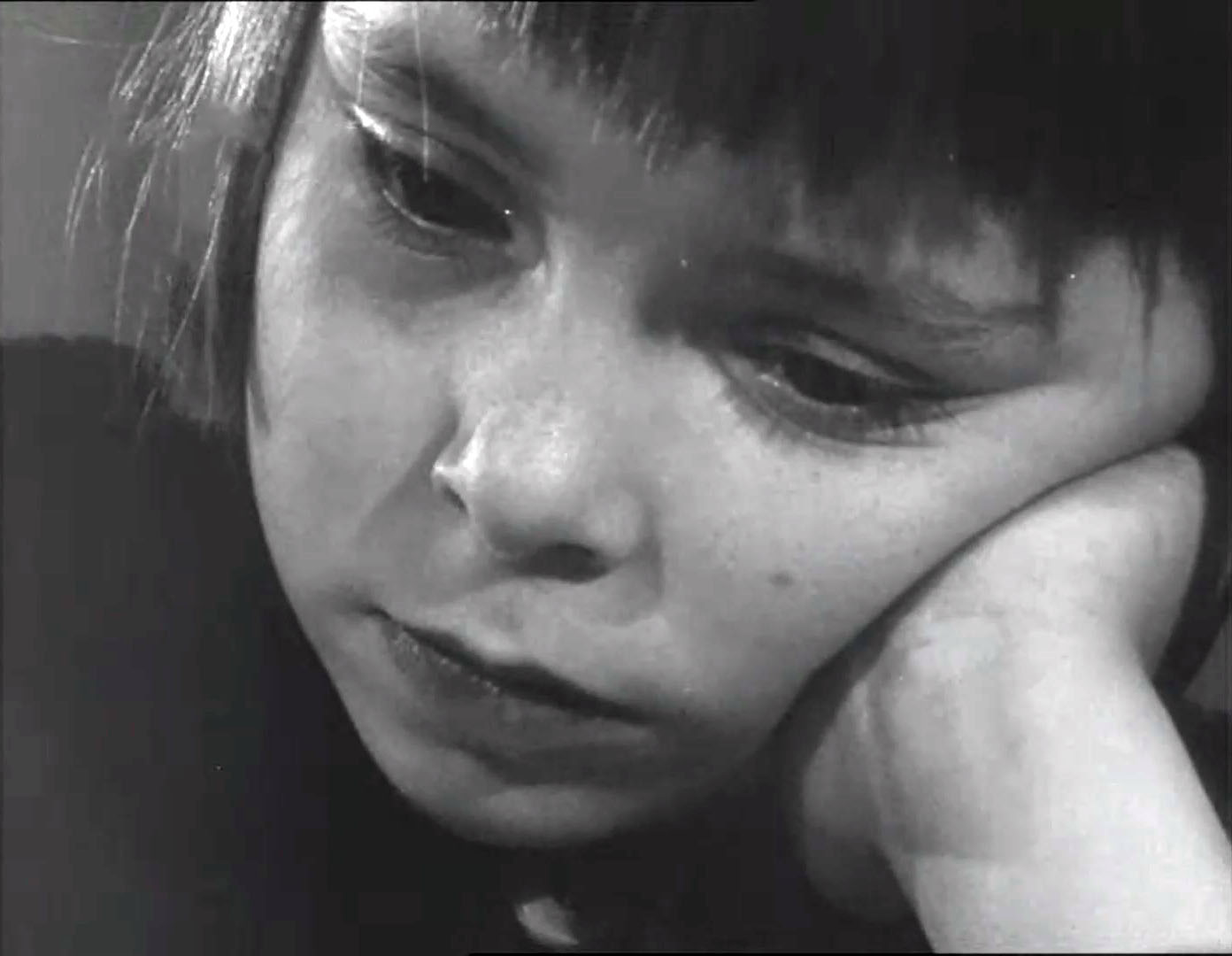 Her face of deep concentration can be seen clearly.
The first sign of her exceptional gifts came, as mentioned, at the age of three, when Jutta was able to watch a game of chess and replay it from memory. At four, she was playing chess at the city's youth center, and by five, she was the city's top junior player. On her sixth birthday, she played twelve more in a simulation and won 9.5-2.5 in four hours.
A German news report on this simulation, dated 1966, and digitized by The Bundesarchiv was made, bringing footage of the little girl circling the boards much to the dismay of the opponents.
A sign of the times, the players all enjoy a beer and a cigarette as she proceeds to break them down, one by one.
In her next simulation in the town square, she won 9-1 and, at age seven, she won the Flensburg junior championship. She then played six matches blindfolded simultaneously. As is often the case with these young over-performers, by the age of eight she was performing even more simulations, some of which were broadcast on television.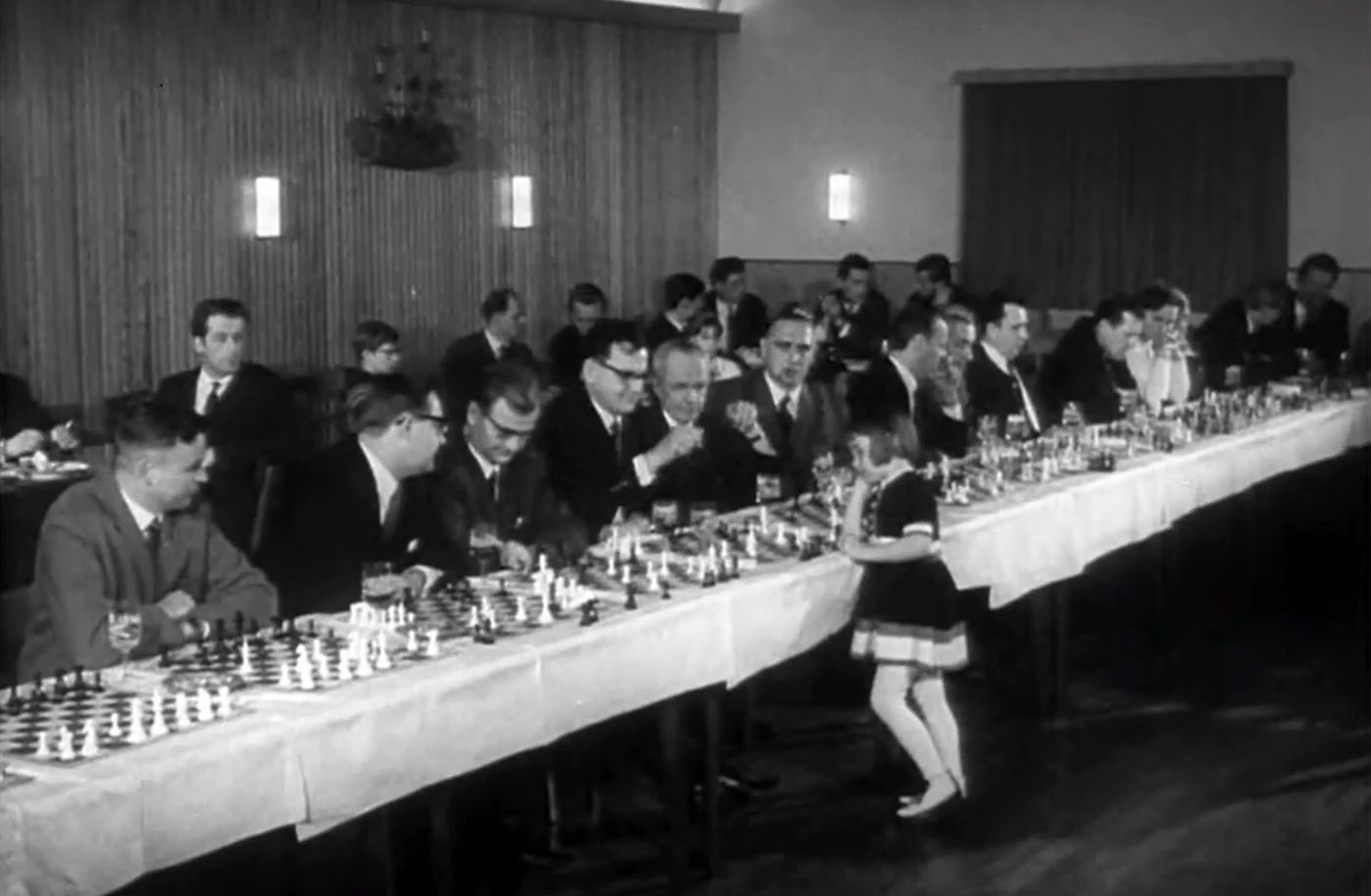 The German newsreel above is not the only one to be found online, and the best known is that of British Pathé.
The overlap in some images is obvious, and an agreement between the two has undoubtedly been reached.
The depth of her precociousness became apparent when at age nine she won a problem-solving contest and, at a tournament in Flensburg, she drew against international master Jens Enevoldsen.
Jens Evald Enevoldsen-Elsing was a Danish chess master who won the Danish championship five times and finished tied for first in two others. He represented Denmark in no less than eleven Chess Olympiads and although he was 63 when he played young Hempel in 1970 at the Flensburg Open, he also played for Denmark the same year and again in 1972.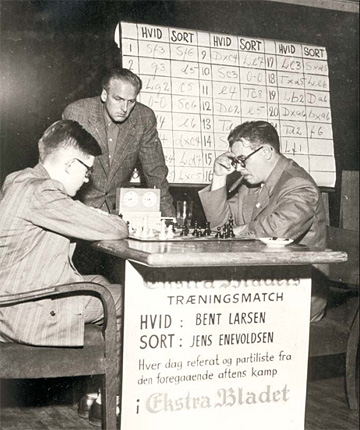 Bent Larsen and Jens Enevoldsen during a practice match (source: arves.org)
Nonetheless, while matches of Jens Enevoldsen from the 1970 Open can be found, as well as Jutta Hempel, their actual encounter appears to have been lost in time.
what has become of her
According to Edward Winter's Chess Notes site, Ludwig Steinkohl (Bad Aibling, Federal Republic of Germany) contacted his father, Hermann Hempel from Flensburg, who responded with two long letters giving details of his career.
"That year she continued her studies in Kiel, in accordance with her own conviction: 'First study, find a profession and then maybe start playing again.' As she was interested in business studies, she spent two and a half years as an employee in a Danish bank."
At the time, according to her father, she commented: "A woman cannot make a living with chess. But if I have children, I will teach them to play, because chess has been a great help to me in everything."
You can find his player profile and games in the online player base
Connections