Overview
Redbox (RDBX) is known for its bright red DVD rental kiosks. They place them in busy outlets to offer a selection of DVDs that can be rented for a few dollars.
They were once the low-cost competition to video rental stores like Blockbuster, adding thousands new kiosks every year from 2007 to 2012. But now Redbox finds itself on the other side of innovation, replaced by on-demand digital rental and streaming services.
Even when their rapid growth phase ended, they had profitable years and maintained around 40,000 booths from '12-'18. This is because some consumers may still have a reason to rent a DVD instead of going online. A specific movie may be unavailable or more expensive on the web. It's also not an option for those without internet service, who might find Redbox the most convenient way to get a movie.
Declining market
The problem for Redbox is that the reasons for using their service are disappearing. The percentage of Americans without the internet is still hitting new lows, suggesting that digital alternatives will eventually reach the small portion of consumers they haven't yet reached.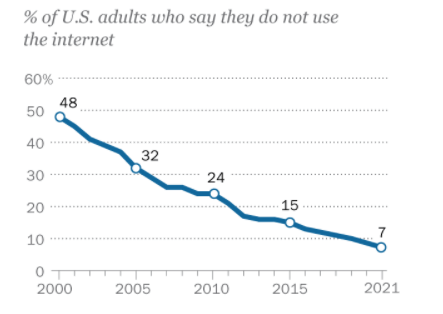 Most movies are made available digitally at the same time or before a DVD release, which means Redbox has no advantage. Studios even experimented with simultaneous digital and theatrical releases during the pandemic and ended up cutting the exclusive theatrical window by about half. Even though it affects theaters more directly than Redbox, it shows that studios are prioritizing digital distribution. There is less reason for an intermediary (either a theater or a rental company) if they can sell their content directly to consumers on the Internet.
Major movie studios are owned by media conglomerates like Disney (DIS), Paramount (VIAC), NBCUniversal (CMCSA) and WarnerMedia (T) which have recently launched their own streaming services. They may publish content on their own service, either to charge a fee or to attract paid subscriptions, which hurts DVD rentals.
Earnings
The financial results reflected the decline in their activity.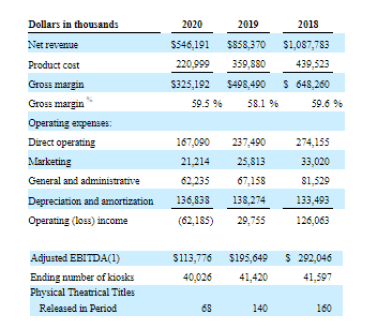 Redbox's revenue fell 20% in 2019 and 36% in 2020. Although gross margins remained stable, operating expenses did not drop enough to prevent them from suffering a loss in 2020. They had still $113M Adjusted EBITDA in 2020, but I don't consider Adjusted EBITDA a useful metric because it doesn't take into account $30M in interest and capital expense. He also ignored $38 million in "one-time" spending in 2020, even though they have similar spending each year – $25 million in previous years and over $10 million in 2021.
Some declining businesses become "cigar butt" investments that make a profit even as their business drops to zero. That doesn't appear to be the case for Redbox, whose profit margin has plummeted and turned negative as revenue has fallen.
A difficult 2020 was partly the result of COVID-19, and 2021 was no better. Revenues fell more than 50% from an already difficult 2020 and operating expenses could not be cut that far, leaving them unprofitable even on an adjusted EBITDA basis.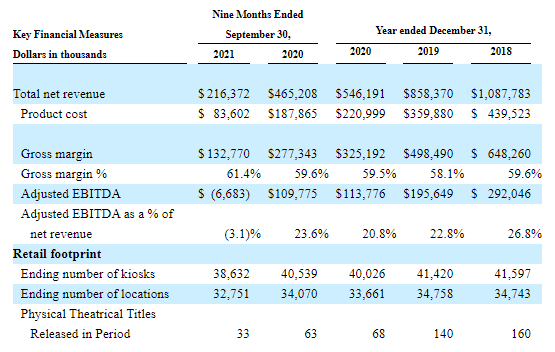 The 2021 performance can still be blamed on the pandemic as the number of films released was even lower (33 vs. 63). Box office receipts in 2021 was an improvement over 2020 but still 60% below 2019. The lack of movie releases clearly hurt Redbox. A post-Covid rebound will help, but might not matter as their business is in decline regardless of the pandemic. The 5% drop in newsstands isn't massive, but suggests that management might not expect revenue to return to pre-pandemic levels. In fact, they hadn't even forecast that their legacy business would return to 2019 revenue levels by 2023 in May 2021. investor presentation which also had an estimate of $500 million for inherited revenue in 2021, of which it will be about 50% less. He also projected $70 million in digital revenue in 2021, which they are far from.
Attempts at digital expansion
Redbox tried to respond to the changing times by creating a digital platform. They launched an on-demand digital service in 2017 and more recently added free live TV and ad-supported content.
The problem is that I can't find a single compelling reason to use their service over others. An on-demand movie such as the latest Ghostbusters can be rented from Redbox.com for $6.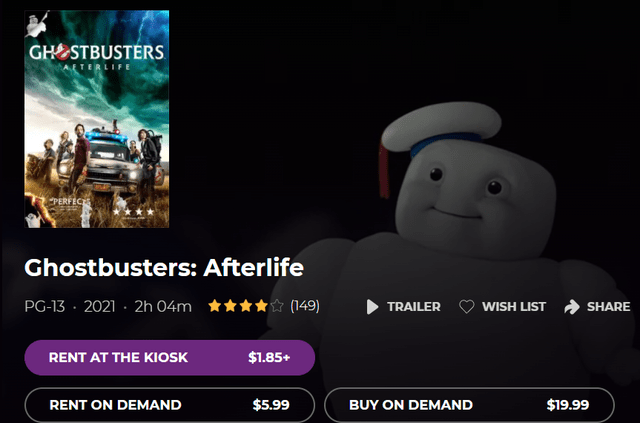 The same movie is on Apple, Google, Amazon, YouTube and many more for the same price. Most people already use one of these services and have no reason to go to Redbox instead. Their live TV offering has the same problem. There's no reason for a content producer to give exclusivity to a small platform like Redbox, and no reason for someone to use Redbox if they don't have enough unique content.
They have to buy or create exclusive content to compete, but it's expensive. Redbox started producing original content, partnership with the producer of John Wick to create several action films with a budget of around $10 million each. But streaming services like Netflix (NFLX) and Amazon Prime (AMZN) spend more than $10 billion on content each year. There is a similar level of competition in free live TV from ViacomCBS (Pluto TV), NBC (Peacock), Roku and many others to name them. Redbox can't come close to these giants as a small company with a $70 million market cap. They only have $100 million in tangible assets and over $350 million in long-term debt. So far, the performance of the digital business is not impressive.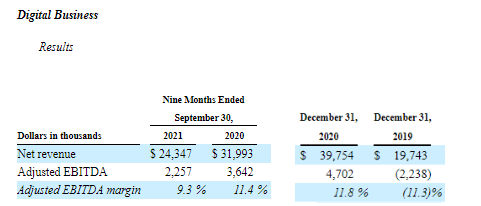 Digital revenues doubled to $40 million in 2020, helped by the launch of their live TV service and the general uptick in online demand we saw during the height of the pandemic. Growth stalled in 2021 and revenues are now on track to decline in 2021.
Since their online services have no competitive advantage, the only unique asset to support digital revenue is their kiosk business. This business has become unprofitable and appears to be in permanent decline, so it won't produce much (if any) money to reinvest in digital growth.
Redbox suggests they can use their newsstand business and email list of 40 million members to promote their digital platform. It's a great idea, but it's hard to believe it will be enough given what they've achieved so far. Almost five years have passed since the launch of Redbox on demand and two years for free live TV. Despite using their existing marketing channels, the digital business is less than 10% of revenue and has not grown in 2021. Digital Adjusted EBITDA will be approximately $3 million in 2021. They are expected to 10 times just to cover their annual $30 million. interest charge. Even though the stock has fallen 75%, it could still fall to zero if neither the legacy nor the digital business can make a profit.
Conclusion
Redbox is in a tough spot. Their legacy rental business is increasingly obsolete and unprofitable as it is replaced by digital distribution. The digital segment should not stop the decline. It is no different from other online competitors, who spend billions on exclusive content and customer acquisition. Redbox doesn't have the resources to match them. Legacy business going from profit to loss will make the situation even worse. With $350 million in long-term debt and an unprofitable business, Redbox stock doesn't seem worth the risk.